HR Administration
Set up security privileges based on hierarchy and align functional process with easy to use multi-input management tools. Your HR team is empowered with a collaborative, paperless workflow environment for managing all  functional and administrative processes. Administration of the employee lifecycle is made considerably more efficient and complete while easier to track, manage and maintain.
Manage all employee personal data such as: address, SIN #, resume, contracts, forms, performance appraisals, compensation, dependents etc.,
Generate notifications, reports, letters and announcements
Set check-lists, tasks, schedules, alerts, emails
Set and manage security  and hierarchy levels for data access and input
Activate employee direct access for personal data maintenance and HR requests
View and authorize employee inputs for expenses, benefits, medical, beneficiaries, and dependents
Improve task management for the on board and exit process

HR Portal & Communication
Employees and managers enjoy the ease of direct web-based access to manage their personal data and request support or information in a "real-time" environment. Communication is improved as workplace culture is enhanced with your own unique and interactive custom HR portal. Connect your business and employees with better communication tools in a centralized, integrated work space.
User privileges and custom menus are enabled to view and action information by level (i.e. Executives, Managers, Employees, HR, IT, Administrator)
Multi-lingual capabilities for up to 6 languages currently
Customizable display capabilities available
Self-manageable content with visual display
Distribute announcements, documents and video based on employee profile
Companywide communication and engagement with blogs and "real-time" polls
Connect and synch with external software for email and calendars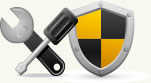 Settings, Tools & Security Management
Maintain secure access privileges with easy to use set-up tools. Manage access rights and set-up  menus, reports, screen display, emails and alerts. Data is kept highly confidential with security parameters enabled depending on level with in your organization.
Define user roles and access rights
Determine authentication parameters
Settings & Tools
Define parameters for menus, interface, forms, reports, requests, emails and alerts
Integrate MS Word, Excel and PDF
Accessible from employee computers, without any installation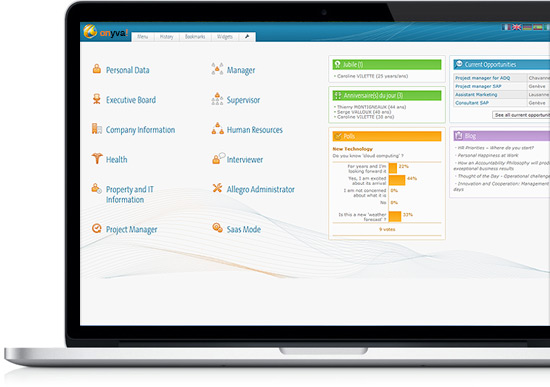 Performance Appraisals / Salary Reviews
Manage the performance appraisal process more efficiently and effectively with custom templates and input tools accessible by employees, managers and HR. Objectives are easily tracked, measured and records maintained for easy reference. Alerts and task lists ensure target dates for completion are kept on track. Annual salary reviews and merit allocation is made substantially easier with collaborative workflow planning, analytics and budgeting tools.
Empower managers and employees with a streamlined and simplified process to track, manage and evaluate performance
Enhance visibility and improve collaboration throughout process
Manage and analyze budgets against employee data sets
Integrate compa-ratio for enhanced visibility to exceptions
Improve "on time" completion and accuracy of merit allocation by 30-60%

Total Rewards
An employee's compensation goes well beyond salary, benefits and bonuses. Capture a complete picture of Total Rewards in one convenient, integrated data base.
Capture and provide employee direct access to view their complete compensation profile: Salary, Profit sharing, STI/ LTI, Merits. Tuition credits, Pensions, RRSP contribution, referral programs
Plan & compensate more completely and effectively